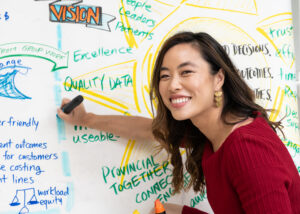 As a visual communicator, I support leaders and teams by synthesizing vast information and content into clear visuals. By helping everyone to get on the same page (literally!), we save time, resources, emotion and precious energy. With visuals, we find clarity in our vision of what the future could look like. This commitment, clarity and investment in turn supports everyone to collectively move forward.
SPACE
I specialize in:
Graphic Recording
Graphic Facilitation
Systems Scribing
SPACE
GRAPHIC RECORDING
You talk, I draw, you talk, I listen, we talk, I listen and draw. In this way, I am your silent partner translating what you say into visuals. In graphic recording, I usually work with another person who facilitates the conversation for the group. The result is a poster that captures what happens in a room (virtual or In-Real-Life) in the moment, in real time.
SPACE
GRAPHIC FACILITATION
Graphic facilitation involves a mix of facilitation and graphic recording. By using custom created templates, tailored specifically to your goals and outcomes, I facilitate a conversation while drawing and scribing in real-time. The result is more engaged group learning, deeper memory recall, and higher investment in actions moving forward.
SPACE
SYSTEMS SCRIBING
Systems scribing is a process that involves the use of visuals with a deep knowledge of systems thinking. Originally from the field of engineering, systems scribing captures a groups' perceptions of a system in real time. By mapping out parts, boundaries, relationships, patterns, perspectives and the system as a whole, leaders and teams gain a deeper + broader understanding of a system. The result is more awareness of systemic issues, critical thinking about barriers and opportunities, and greater clarity in how to move forward. By facilitating our ability to see systemic issues and future opportunities, leaders and groups are empowered to make conscious choices in service of their desired vision.
SPACE
 With humour, optimism and an appreciation of beauty and excellence, I aim to support clients to unleash your optimal performance and potential. You can expect a participatory, collaborative and meaningful experience when partnering together.
SPACE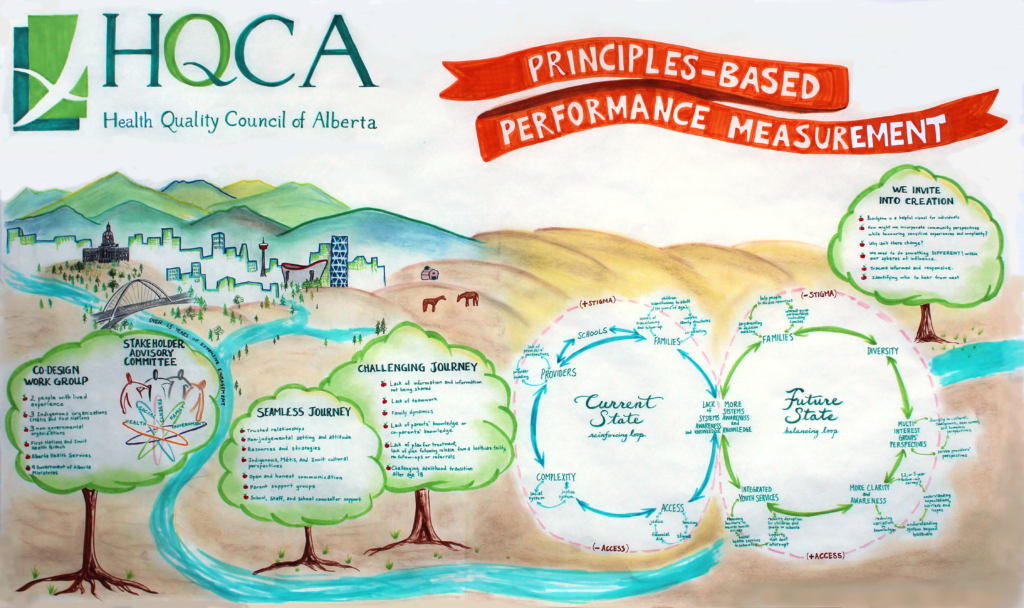 Health Quality Council of Alberta, Principles-Based Performance Measurement, Systems Scribing Poster, Studio Piece, 2019
SPACEHea

St'át'imc Community Engagement, Strategic Plan for Gold Trail School District 74, Live Graphic Recording, 2017
SPACE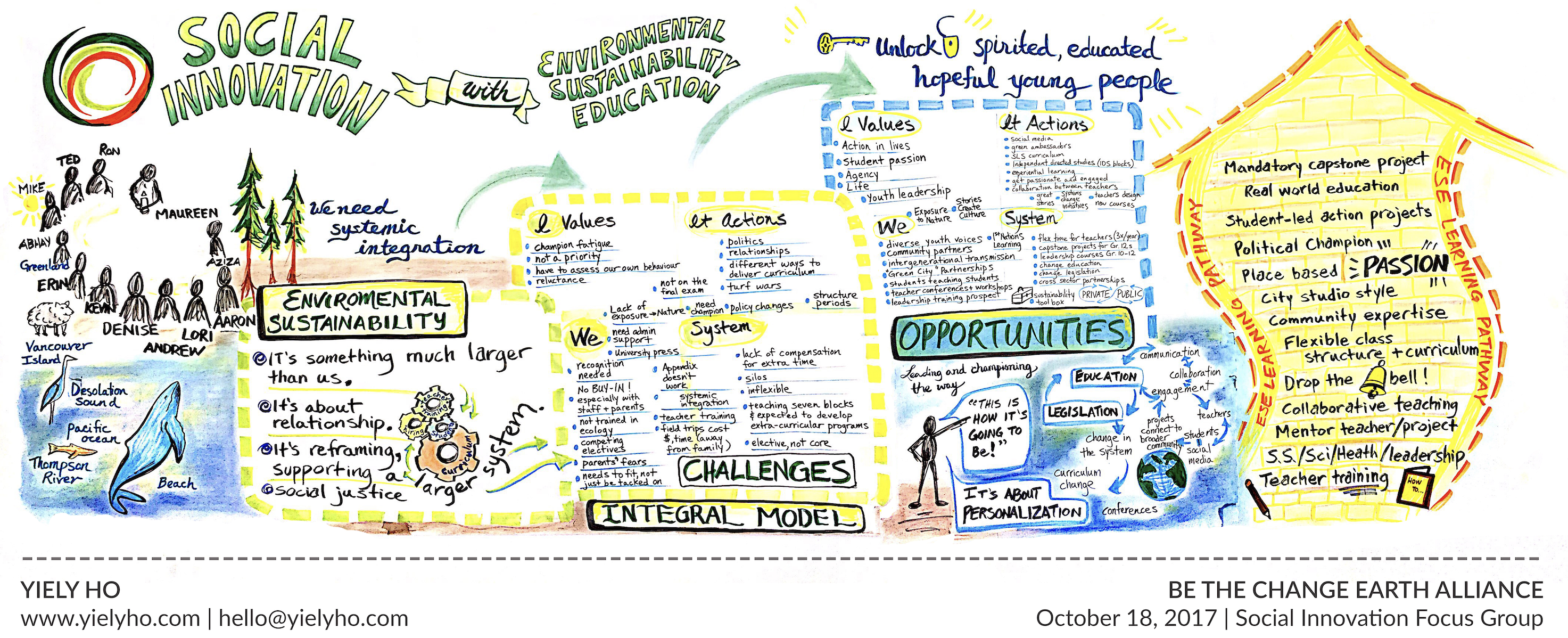 Be the Change Earth Alliance, Social Innovation Focus Group, Live Graphic Recording, 2017
SPACE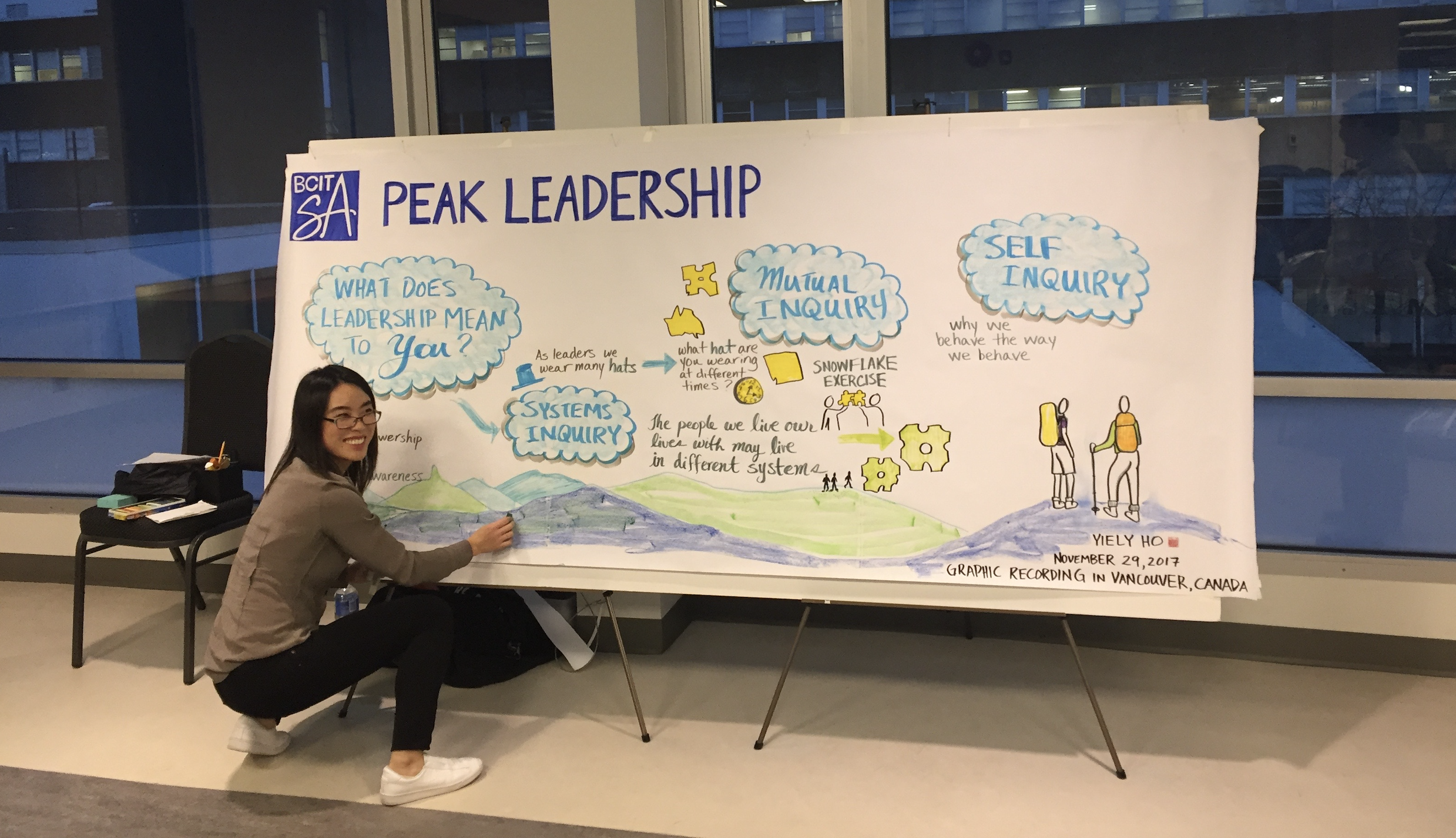 British Columbia Institute of Technology, Vancouver, British Columbia, Graphic Recording, 2017
SPACE